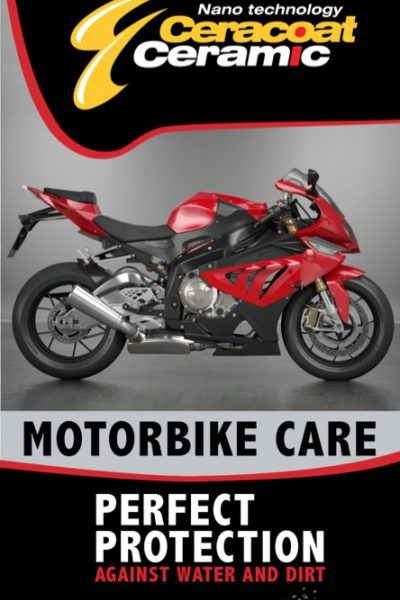 CERACOAT Motorbike Care 200ml
Protects the entire motorbike (metal, light alloy, chrome, plastic, kevlar, carbon, glass: body, wheels, window, tank, lamp, mirror, helmet, visor) against all kind of influences (liquids + dirt)
Product Description
CERACOAT MOTORBIKE CARE
Ceracoat Motorbike Care protects the entire motorbike (metal, light alloy, chrome, plastic, kevlar, carbon, glass: body, wheels, window, tank, lamp, mirror, helmet, visor) against all kind of influences (liquids + dirt). Ceracoat thin nano Ceramic film will coat and protect the entire motorbike against dirt, rain, snow, brake dust, bird excrements, insects, exhaust gases, the sun, and small "stones" projected on the bike and makes the surfaces very shiny for a long time. It cleans + coats + protects + makes the surfaces shiny + smooth. After treatment with Ceracoat you no longer need any cleaners.
CERACOAT SAVES YOU TIME AND MONEY!
APPLICATION:
Take (clean) the biggest dirt away -bike has to be dry – Shake well before use. Simply put some drops of Ceracoat Motorbike Care on a towel ( absorbent paper) and polish it with circular movements until you see appear a mat film on the surface and let it dry. Do not use too much material: For a normal motorbike about 1/4 of the bottle. After 2-3 minutes polish the "mat powder" away until it becomes very shiny, smooth, fine. The motorbike is getting very shiny like a mirror. (Small quantity is sufficient) – You can coat your motorbike several times to get a smoother surface and an even greater mirror effect. Coating is very long lasting.
CLEANING AFTER TREATMENT WITH CERACOAT
Using a humid towel is enough to clean the bike.
Just take the dirt away and polish it dry again.
No need for cleaners shampoo any more.
Rain will just roll away and clean your motorbike (depending on speed)!