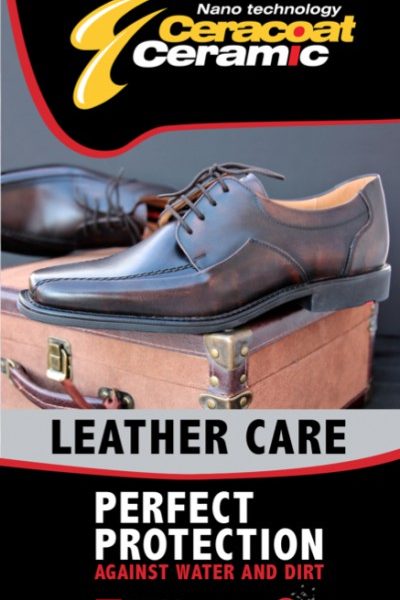 CERACOAT Leather Care 200ml
For all types of leather,both, absorbent and nonabsorbent, lacquered wood , marble, stone, plastic,rubber (not for suede leather — for suede leather use Ceracoat Textile Care).
Product Description
CERACOAT LEATHER CARE (also for lacquered wood/marble/stone/plastic/ rubber)
Ceracoat Leather Care waterproofs and protects all your leather/plastic objects like shoes, boots, overalls, jackets, seats, car cockpits, furniture, baggage, etc. (and lacquered wood like furniture lacquered marble) against liquids (water, oil, sauces, milk, coffee, wine, ketchup, honey and much more) dust and dirt generally, and gives the leather a new shine and deep black color, and makes lacquered surfaces shiny. Ceracoat thin nano ceramic film will waterproof and protect all your objects. Water is repelled (building drops, no penetration into the surface) dust and dirt do not penetrate leather/surface adhere to the leather/surface anymore.
Ceracoat Leather Care keeps your leather/plastic objects like new. Color will come back becoming "deep color" and the leather/plastic will become ( remain) smooth, supple and soft. Ceracoat is a thin extra ceramic nano film which waterproofs, protects and gives a new shine and deep look to all your leather/plastic objects. Water, liquids, dust and dirt do not penetrate leather/plastic anymore. Ceracoat Leather Care is very long lasting – depending the use it will be active for about 1 year. After treatment with Ceracoat you no longer need traditional cleaners shoe/leather polish.
Ceracoat saves you Time and Money!
APPLICATION: Leather/plastic objects (and lacquered surfaces) must be clean and dry – Shake before use. You can coat leather/plastic (shoes/furniture, etc) that are natural already polished. Just put some drops of Ceracoat Leather Care on a towel ( directly on the surface) and start coating the leather/plastic (like if you polish clean them). It's easy to see if you passed everywhere, and then just let it dry for some hours.
CLEANING AFTER TREATMENT WITH CERACOAT
Dust, dirt and liquids can just be shacked away, just absorbed with an absorbent paper. Creamy and sticky liquids as grease oil can be rinsed away using only water. Then just absorb the water with an absorbent paper.