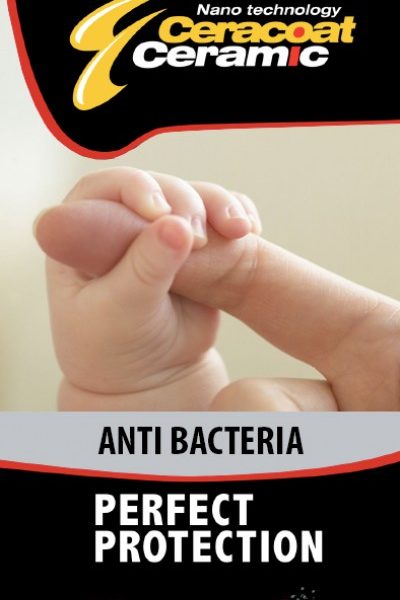 CERACOAT Anti Bacteria 200ml
High quality nanotechnology coatings for smooth glass, plastic and glazed ceramic surfaces: easy-to-clean self-cleaning also with "Anti Bacterial" property.
Product Description
CERACOAT ANTI BACTERIA
These coatings were designed to enable smooth, glass-like surfaces to have less contact with dirt particles. The hydro- and oleo phobic efects cause particles of contamination such as grease, oil, lime and materials environmental pollution to adhere less to the substrates, and allow them to be easily removed the coating, i.e. without applying abrasive agents cleaning products ("Easy-clean" efect). AVAILABLE AS EASY-TO-CLEAN AND SELF-CLEANING
EXAMPLES OF USE:
Glass and plastic surfaces in sanitary areas (showers, mirrors, windows)
Glazed ceramic surfaces (toilets, lavabo, bath, sinks, glazed tiles)
Window glass + construction glass (conservatories, high-rise buildings)
SOLAR PANELS (glass, plastic)
PRODUCT CHARACTERISTICS:
Strong hydrophobic ( hydrophilic) + oleo phobic ( hydrophilic) properties
Strong non-stick properties – anti-bacterial
Excellent easy-clean performance on contamination and lime-scale ( self-cleaning)
Food safe (inert) – abrasion resistance on glass
OTHER PROPERTIES:
Invisible to the human eye (coating thickness: 100-150 nm)
Permanent (UV-stable, enormous abrasion resistance)
Resistant to temperature change, breathable, anti-bacteria properties
Simple application (do-it-yourself)
Chemical resistant
APPLICATION:
Simple do-it-yourself application makes it suitable for end-customers as well:
Manual: Spraying on surface and then drying (polishing)
Industrial: Spraying machine + polishing machine
This NANO-coating is completely networked and hardened after 24 hours.
The easy-to-clean ( self-cleaning) efect can only be tested after this hardening phase.
STORAGE STABILITY:
Unopened original containers can be stored for at least 3 years.
Recommended storage- and transport temperature: -3 to 30°C
CONSUMPTION:
Manual: 5-10 ml/m2, Industrial: 10-15 ml/m2
ADVANTAGES COMPARED TO COMPETITIVE PRODUCTS
Permanence and longevity:
The UV-stability enables functionality for a number of years, approximately the lifetime of the coated surface. Many competitive products are slowly destroyed by sunlight and cleaning
Abrasion resistant, easy-to-clean efect self-cleaning efect by photocatalytics.
A permanent chemical bond with the substrate enables an excellent abrasion resistance.
Many competitive products can be easily removed by abrasion
Chemical stability – "self-cleaning" – "anti-bacterial".
The product is resistant to almost all standard household and industrial cleaners.
Many competitive products must be reapplied after cleaning the surface.
IMPORTANT NOTICE: Our explanations correspond to our current knowledge and experience. The right to make alterations within the framework of technical advances and operational development is reserved. The customer is not released careful product application. We guarantee the quality of our products in accordance with our general sales conditions as a matter of course. The products are ready-to-use. Mixing with other substances other charges is strictly forbidden.